DRD 2.0 has been enhanced to allow you to begin a DRD for any product; and then save it as a draft if you do not have all of the information required to complete and submit.
What does this mean?
Begin a DRD, enter as much information as you can, then click SAVE AS DRAFT to hold it until you have the remaining information required to complete/submit
You must enter the account information in order to SAVE AS DRAFT
Once it is SAVED AS A DRAFT, you can later come back to it and complete/SUBMIT
Presales resources and conversions for Google docs will not happen until the DRD is submitted
You can filter to show your Drafts within your opportunities 
A DRD is not counted/considered complete until you SUBMIT.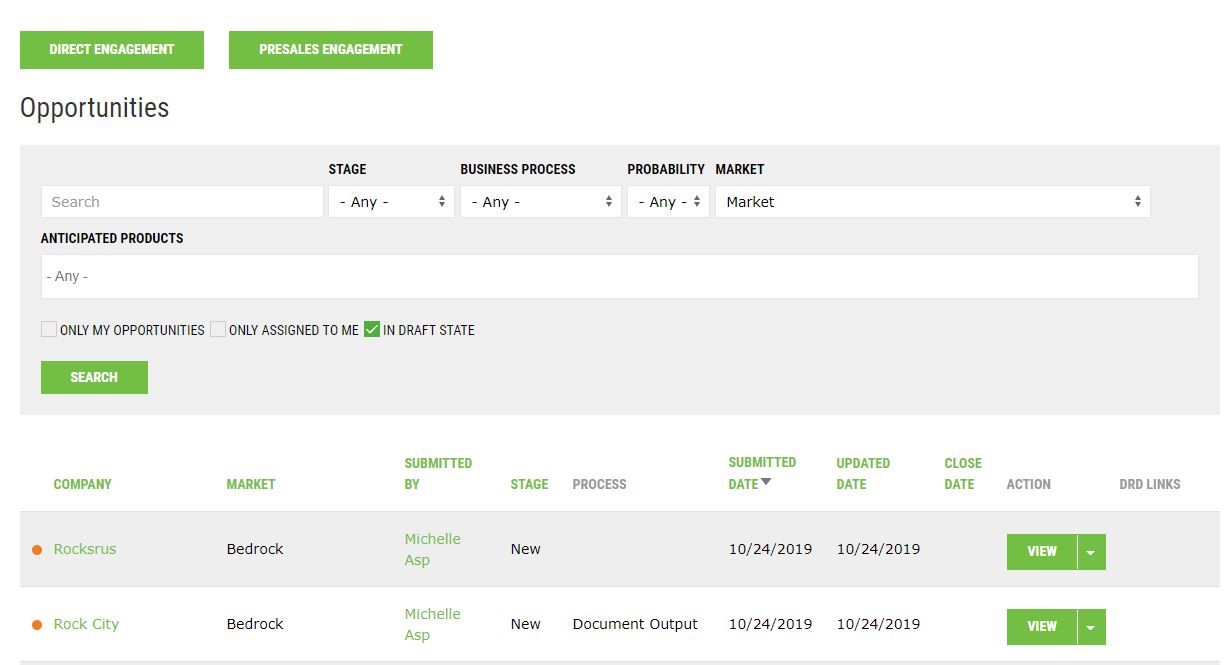 ---
Comments (1)
#1 Goal is to have machine that will handle the smaller job sizes, and be able to changeover easier.

Today, sends about 5 million pieces through 2 Rival machines.  

Envelopes all made in house (#10 and 6x9).  Do not make flat envelopes.

90% of work is not coded.  The coded applications are generally Read and Print (2D code, and spraying address on the envelope)

Have an application that is a 3 way blind match.  Slowing down the machine, put an extra operator.  Example (9,000 pieces took 5 hours)

Most customers are financial institutions.  Desire to move into additional transactional work.

Flats jobs take a 2 hour round trip for changeover, so most of it is going to the hand work area.  Flats are no more than 2-3 inserts.  Don't put any flats on machines unless there are at least 5,000 pieces.  Many apps are a booklet, paper, and a BRE.  THe booklets are saddlestitched and really have no problem running on the Rival streamfeeders.

Uses a lot of temps.  Only needs 5 hours to notify temp agency for staffing.

Uses BCC for address quality, and worksharing (NCOA, CASS, Presort, IMB....didn't know much about Informed Delivery, but just received an inquiry).  Uses XMPie for composition.  Met briefly with manager.  Have 2 composers and 2 data processors.

 

AVANTE is the operating system that does all of the job tickets.  They have 6-20 jobs per day.  70% are smaller jobs.

2 Rival machines.    Single Accumulator/folder with 4 pockets.  Typically only use 2-3 pockets.  1 is 7" spacing, the other is 14" spacing.  One has a Falcon ink jet printer with 4" of print.  Return address, permit imprint, and address.

Run 2 shifts 6:30-3 and 3-11:30.  Current PB contract is 9-5 with a 4 hour response time.  Have had some issues with parts, but generally they like their service tech.